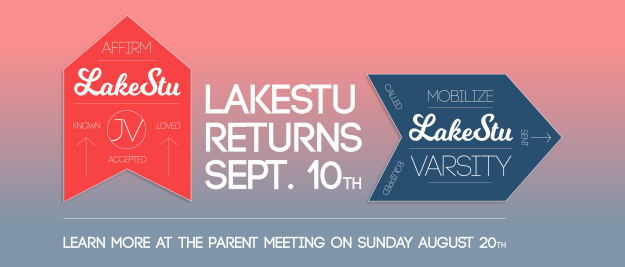 LakeStu Kick-Off 2017
Sunday, September 10, 2017, 6:00 PM - 8:00 PM
Lake Students, our ministry for middle school and high school students, will resume meeting on Sunday, September 10th at the West End YMCA in Willoughby from 6-8pm.
This first meeting will launch LakeStu JV and LakeStu Varsity, our new approach to meeting middle school and high school students where they are. This fall Middle schoolers and High schoolers will have their own versions of LakeStu on Sunday nights, and our hope is that this will allow us to pursue content and activities that better fit each age group.
Please note that both groups will continue to meet at the West End YMCA on Sunday nights from 6-8pm (with the exception of the first Sunday of each month, which is reserved for LakeStu Life Groups).
You can learn more about the changes coming to LakeStu this fall by attending our Parent Meeting this Sunday in the Music Room at Lakeland (Room C-1078, just down the hall from the Performing Arts Center) immediately following the worship service.