We gather together on Sunday mornings at 10am to worship God and study His Word. Here is all the information you need to know to plan your visit.
Our worship service is held on Sundays at 10am at Lakeland Community College's Performing Arts Center.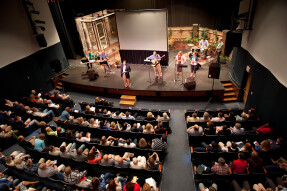 Hearing the Bible preached.
Having a secure place for kids to learn about Christ and the Bible, grow in friendships and have a good time.
Singing meaningful songs.
Relaxed dress.
A service that lasts about 75 minutes.
Where do I park?
As you pull into the entrance to the Lakeland campus proceed down Clocktower Drive and make a right at the first stop sign (A giant Clocktower will be in front of you). Then make an immediate right. The entrance to the lot will be on your left. There is a gate there that will be up. That will be the lot closest to the Performing Arts Center.
If you are handicapped and need assistance pull up to the Clocktower and we will provide help.
Where is the Performing Arts Center?
As you walk into the front of campus from the parking lot look for the Clock Tower. The Performing Arts Center is the building to the immediate left of the Clock Tower.
Where will the kids go?
Our children's volunteers will take care of your children during the entire length of the service. The children's rooms will be located in a few rooms adjacent to the Performing Arts Center and on the second floor of the Center down the Hall in the A-wing.
How do I know my kids are secure?
Our children's care workers are screened with background checks and approved by the leadership of the church plant. Halls and classrooms are monitored for additional safety and for assistance in case of emergency.
What ages do you provide child care for?
We will provide Sunday kids programming from birth- 5th grade. Students that are 6th grade and older will come to the service. Students interested in serving in the kids ministry will be considered on a one-by one basis.
How can I get further involved?
Attend the Sunday services regularly
Join a Community Team
Get on The City
Volunteer for a team or ministry