App Feature of the Week: Taking Sermon Notes
Welcome to our blog series in which we will be explaining a different feature of our Parkside Church Lake County App every Thursday! If you haven't downloaded the app yet you can find it in the App Store here, and in Google Play here.
This week we are discussing taking sermon notes in the app. Every Sunday the Parkside Church Lake County App allows you to follow along with the sermon by filling in an outline and taking notes inside the app. These notes then remain in the app for you to go back and read at anytime. Here's how it works: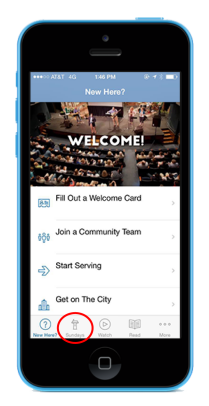 When you open the app, this is the first screen you will see. To get to the sermon notes you'll first want to click on the "Sundays" button at the bottom of the page (if you're using the app on an android phone the "Sundays" tab will be at the top of the screen).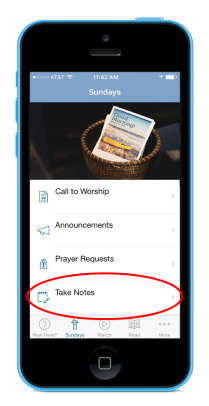 Once you're on the "Sundays" page click the "Take Notes" button that's fourth in the list of options. You can also scroll down on this page to access a digital Bible within the app.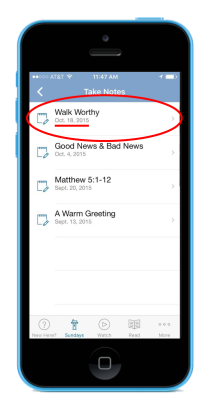 Once you click the "take notes" button you'll be taken to the "Take Notes" page. This page organizes current and previous sermon notes by date. Each week this page will be updated with the current outline for that Sunday's sermon. The current outline will always be at the top, and will display the date of that particular Sunday. So when trying to figure out which outline is the correct one for each Sunday you can always use the date to be sure.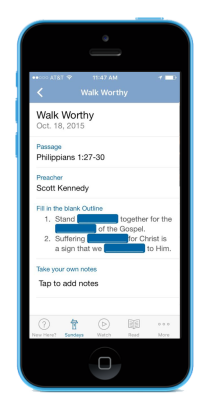 When you click on the sermon for a particular Sunday it will take you to the notes page for that particular Sunday. Notice how you have two options for taking notes: you can fill in the blanks of the sermon outline prepared by the preacher, and you can also tap to add your own notes. Both features are very helpful for following along in the sermon, but be sure to click "save" when adding your own notes so that they remain in the app.
Once your notes are taken and saved they stay in the app! Anytime you want to go back and look through previous weeks all you have to do is go to "Sundays">"Take Notes"> and then pick a particular sermon based on date or title.
Well, that's our app feature of the week! Thanks for reading and come back next Thursday for the next feature: Joining a Community Team!