App Feature of the Week: The Welcome Card
Welcome to a new weekly blog post in which we will be explaining a different feature of our Parkside Church Lake County App every Thursday! If you haven't downloaded the app yet you can find it in the App Store here, and in Google Play here.
This week's feature in the app is the Welcome Card. This is a feature that allows guests on a Sunday morning to download the app and then fill out a digital Welcome Card. By filling out a Welcome Card guests are giving us some basic information that will allow us to follow up with them and help them connect with our church. By filling out a welcome card guests are also added to a list which allows the welcome team to prepare a gift for the new guest to pick up after the service.
If you are new to Parkside Church Lake County, or would like to know how to explain the welcome card to a guest you are inviting on a Sunday, follow these simple instructions:
When you first open the Parkside Church Lake County App this is the screen you will see: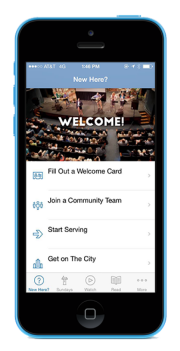 Note how the first option you can click on is "Fill Out a Welcome Card":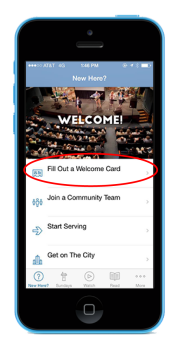 By clicking on this option you will automatically be taken to the digital Welcome Card inside the app: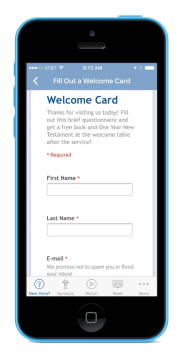 The Welcome Card asks guests to fill out some basic contact information like name and e-mail; and then allows the guest to check off certain options like "first time visitor," "I would like to meet with a pastor," "I would like to learn more about becoming a Christian," and more.
Once the guest fills out the card and hits submit that's it! They can go to the welcome table after the service to receive a gift and we will do our best to follow up with this guest accordingly.
So if you are new to Parkside Church Lake County get on the app and fill out a Welcome Card today (don't worry, you'll still get a gift on Sunday)! If you are planning on inviting someone to church be sure to familiarize yourself with the Welcome Card so that you can help your guest get connected!
Well, that's the Welcome Card! Come back next Thursday to learn more about another great feature in the app: taking Sermon Notes!