Important! Change in Traffic Flow at Lakeland
At Lakeland Community College, beginning Monday, July 3, construction on the Health Technologies Building will impact the normal traffic flow and change the route you need to take to get to the parking lot on Sunday mornings.
Incoming traffic from 306 will not be permitted to turn right toward the Clocktower circle and staff parking lot. You must turn left and go toward the back of campus. Proceed toward the gym, turn right on the road that takes you past the softball field. At the next stop sign, continue right and that road will take you to the staff parking lot, where you will turn left and continue to park in the lot as you have been doing. You will be able to enter through the same doors as usual to get to the Performing Arts Center.
Check out the map to get an idea of how this will work: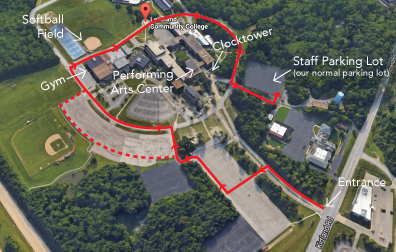 When you leave you will need to exit the same way. You can visit lakelandcc.edu/expansion for construction maps, updates and project information. This temporary road closure is expected to be reopened by the start of the fall semester.
We apologize for this inconvenience, and we thank you in advance for your patience and flexibility.