Movieology: Toy Story Turns 20
Welcome to Movieology, a new blog series in which we look at movies from a theological perspective. Our goal in this series is to find Gospel themes in cultural stories. By examining the stories we tell ourselves as a culture we can learn about what we desire, what we fear, and where we find hope. In doing so we find opportunities to inject the Gospel story into the world in which we live.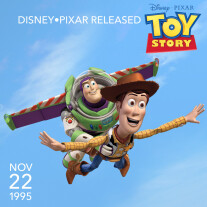 On November 22, 1995 Pixar released Toy Story, the first-ever fully computer-animated film, and it changed the world. What first seemed like a novelty quickly became a phenomenon and launched two decades of unprecedented achievement in animation and storytelling. Next month is Toy Story's 20th anniversary, so to celebrate let's look at the Gospel themes present in this unique story.
(SPOILER ALERT: If you haven't gotten the chance to see Toy Story in the last twenty years go watch it before you read this, as we will be discussing the entire plot of the movie.)
Unconditional Love
"You've got a Friend in Me"
Toy Story is about a pull-string cowboy doll named Woody and a group of anthropomorphic toys that belong to a kid named Andy, whose family is preparing to move to a new house. When the story begins Woody is Andy's favorite toy, a role he cherishes. As we watch Andy play with Woody it becomes clear that Woody's entire identity is based on the love he receives from Andy.
Woody's security is rocked, however, when Andy receives a new toy for his birthday: Buzz Lightyear, the coolest space toy in the galaxy. Andy quickly casts Woody aside in favor of playing with Buzz, and Woody begins to fear that this space ranger will replace him as Andy's favorite toy. Woody become jealous and hard-hearted towards Buzz; and what's worse is that Buzz doesn't even seem to appreciate the love he receives from Andy because he is under the delusion that he is a real space ranger and not, in fact, a toy.
Woody's jealousy and fear of being replaced reveal something importance to us about what it means to be human. All of us have a need for unconditional love. We desire to be loved and accepted, and to know that our status as beloved cannot be taken away. Woody grows jealous of Buzz not just because he is taking Woody's status, but because the arrival of Buzz has shaken Woody's confidence in Andy's love for him. Without this love Woody has no identity.
We all desire to be beloved unconditionally. Scripture teaches that this is because we were created to find our life in the unconditional love of God. Just as Woody exists to be loved by Andy, we exist to be loved by God and to love Him in return. As Augustine writes, ""Thou hast made us for thyself, O Lord, and our heart is restless until it finds its rest in thee."
Yet in our pride and sin we reject this love and choose to seek it out in other places. Instead of finding love and acceptance in our Creator we look for it in people, success, or achievement. We reject God and in His place build up idols, expecting them to do for us what only our Heavenly Father can do. This rejection, this sin, separates us from our source of life and identity, so we resign ourselves to a life of performance, hoping to earn love and fearing anything that could get in our way.
Repentance
"I'm a Lost Toy"
In response to Buzz's interference Woody comes up with a plan to trap Buzz behind a desk so that Andy will take Woody with him to Pizza Planet. Desperate for time with Andy Woody enacts his plot only to see Buzz to get knocked out of the window by accident. The other toys, horrified by this seemingly murderous act, are interrupted from enacting justice when Andy comes looking for Buzz and, being unable to find him, settles on taking Woody.
Buzz is not dead, however, and is able to hitch a ride on the back bumper of Andy's car. At a gas station Buzz confronts Woody inside the car, tackling Woody out onto the pavement. While the two are scuffling Andy and his mom return to the car and drive away. Spotting a Pizza Planet delivery truck, Woody convinces Buzz to stow away with him to the "space port" of Pizza Planet.
This leads to a series of events that land Woody and Buzz in the bedroom of Andy's sadistic next-door neighbor Sid, who finds pleasure in mutilating and destroying his toys. It is here, in the dark night of the soul that is Sid's house that both Woody and Buzz are transformed.
In Sid's house Buzz sees a commercial revealing his true nature as a toy, crushing him and leaving him adrift without an identity. As Woody attempts to shake Buzz out of his depression he begins to see Buzz not as a threat to be feared but as a fellow sufferer seeking an identity. Added to this realization is the discovery that the monstrous mutant toys in Sid's room are not cannibals but actually healers. They fix Buzz's broken arm, and in showing this kind of love to a stranger they begin to change Woody's heart.
All of this comes to a head when Sid decides to strap Buzz to a large rocket he hopes to set off the next morning – the same day as Andy's move. This crisis brings us to the low point the story where Woody is trapped under a plastic crate and a depressed Buzz has resigned himself to his explosive fate.
Woody attempts to motivate Buzz to escape, but Buzz doesn't see the point, because he is only a toy. This inspires Woody to help Buzz understand that being a toy is far greater than being a space ranger. In what may be called a sermon Woody extols the joy that comes from being loved unconditionally by a kid like Andy, simply because they are his. Woody describes how being loved and accepted by a kid is the only thing that truly matters, and he begins to wonder if he is unworthy of this love. Woody tells Buzz he should just escape without him, but now it is Buzz's turn to encourage Woody by reminding him of the unconditional love Andy has for both of them.
Buzz helps Woody escape the crate just in time to for Sid to wake up and take Buzz outside to light the rocket. Woody quickly takes action, enlisting the help of the mutant toys to rescue Buzz. Suddenly the toy that was so quick to get rid of the space ranger is willing to risk his own life to save him.
This is the transformation that comes from repentance. Woody realizes that even though he had Andy's love, his lack of trust in Andy made him prideful, jealous, and vengeful. He realizes that he didn't fully understand this unconditional love; because if he had he would have welcomed Buzz with the same kind of acceptance he receives from Andy.
Buzz's transformation comes when he repents of his own pride and self-importance. Buzz found his identity in being a hero, the galaxy's last hope, and when that was stripped away he had nothing left. But Woody helps Buzz understand that he was meant to find his identity not in saving the galaxy, but in being loved by a child. Buzz repents of his desire to find meaning in himself and is "resurrected" by finding his identity in being loved unconditionally by Andy.
We too need this kind of repentance. We need to repent from our idols, from all of our attempts to find our identity and hope in things apart from God. We need to turn from our performance and rest on the performance of Christ. We were made to find our life in the love of our Creator, so we must turn from ourselves and turn back to Him.
Self-Sacrifice
"Falling with Style"
Woody rallies the mutant toys to rescue Buzz from Sid, and then the pair make a run for Andy's car just as it's about to pull out of the driveway. Woody makes it to the car but Buzz is stuck in the fence because of the rocket. Buzz urges Woody to go on without him, but instead Woody leaves the car to help Buzz get free, only to see Andy's car drive away without them.
This scene reflects a complete turnaround for Woody. He goes from selfishly trying to get rid of Buzz so he can be with Andy to sacrificing his own desires to help Buzz. His repentance has turned him into someone who puts the needs of others before his own.
Once Buzz is free the two toys race to catch the moving van, but Woody is attacked by Sid's dog. In response Buzz jumps on the dog, allowing Woody to make it to the bumper of the moving van. Here Buzz has sacrificed himself for someone who effectively tried to kill him earlier in the movie, showing that embracing Andy's love has transformed him, allowing him to forgive Woody and sacrifice himself for him. Buzz truly becomes a hero not because he's a space ranger but because he is a beloved toy. His belovedness leads to self-sacrifice.
In the moving van Woody uses Andy's RC car to rescue Buzz, at the cost of being thrown out of the van by the rest of Andy's toys. Luckily Buzz and RC catch up to Woody, and end up using Buzz's rocket to help them catch up to the van. This plan works perfectly until it's time for the rocket to explode at which point Buzz releases his wings, separating the toys from the exploding rocket. This sends Woody and Buzz on a triumphant flight through the sky and into the sunroof of Andy's car, landing them in a box on the seat next to their owner.
In this happy ending we see the power of self-giving love. Woody and Buzz, once enemies, have learned to put each other's needs before their own, and in doing so have (literally) risen to new heights. These characters who were once full of pride, jealousy, and fear, are now willing to lay down their lives for each other. Andy's unconditional love empowered them to offer self-giving love to each other, and this resulted in restoration.
This is a clear picture of the Gospel story. The unconditional love of Christ leads us to repent, to tear down our idols and find our hope in Christ alone. In this place of resting on the self-giving love of Christ we are freed to offer this same kind of self-giving love to other people. In a culture of fear, performance, and self-promotion, followers of Christ can offer a different story; a story that is lived out at the foot of the cross, where Christ has loved us to infinity and beyond.
"Beloved, let us love one another, for love is from God, and whoever loves has been born of God and knows God. Anyone who does not love does not know God, because God is love. In this the love of God was made manifest among us, that God sent his only Son into the world, so that we might live through him. In this is love, not that we have loved God but that he loved us and sent his Son to be the propitiation for our sins. Beloved, if God so loved us, we also ought to love one another." (1 John 4:7-11, ESV)